Samsung Electronics Co. said it expects a total impact of $ 5.3 billion through March 2017 after ending production of its fire-prone Galaxy Note 7 smartphones, as South Korea's largest company tallies the cost of the corporate crisis.
Costs for the Note 7 crisis are mounting. The Suwon-based company disclosed on Friday a negative impact of approximately mid-3 trillion won ($ 3 billion) in operating profit in the current quarter and first quarter of 2017, on top of a $ 2.3 billion cut in the previous period.
A drop in revenue from the discontinued sales will have a negative impact on operating profit for the next two periods — mid-2 trillion won in the fourth quarter and about 1 trillion won in the first quarter of 2017, Samsung said. The total impact is in line with analysts' estimates. Chung Chang Won, an analyst at Nomura Holdings Inc., estimated that the Note 7 termination would cost the company about $ 5 billion in operating profit through 2017.
"Samsung will now try its best to do better in other divisions including semiconductors and it will also try hard to promote sales of S7s because there are no alternative Galaxy devices until the first quarter of next year," said Park Kang-Ho at Daishin Securities Co. "The shares will remain pegged around the current levels but may start rising if more restructuring comes out, or the next Galaxy S models succeed."
Samsung shares have slumped more than 8 percent this week, wiping about $ 20 billion from its market value. The stock is up 24 percent this year.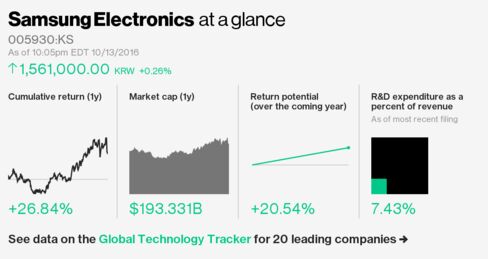 Samsung said it will make up for lost revenue by expanding sales of flagship models such as the Galaxy S7 and Galaxy S7 Edge. Earlier this week, the company cut its third-quarter operating profit, giving the first official indication of how much the missteps would cost. Samsung has been struggling with the fallout from the troubled Note 7 phones, which were overheating and catching fire even after a recall that was supposed to fix the problem. Samsung said Tuesday it would kill this generation of the high-end phone.
Samsung and Vice Chairman Jay Y. Lee are struggling to contain fallout from the troubled Note 7 phones. The debacle is testing Samsung's management and raising questions about whether it needs stronger leadership. Lee Kun-hee, the family patriarch, remains chairman even though he suffered a heart attack more than two years ago and hasn't been back at the company since. Jay Y., his son, is heir apparent but he hasn't been able to take his father's title because of Korean custom.

Business – Google News