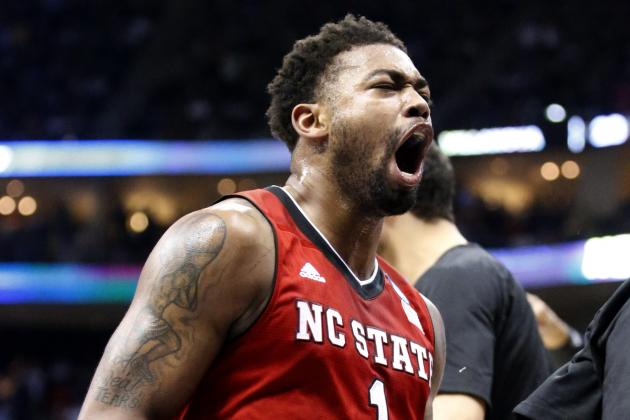 Gene J. Puskar/Associated Press
One half of the Sweet 16 field is set after Saturday's third-round games. We saw our first No. 1 seed go down when the Villanova Wildcats were toppled by the No. 8 NC State Wolfpack, 71-68.
The Wolfpack did a number on Villanova on the glass. On the strength of a 45-32 rebounding edge and 17 points from Trevor Lacey, NC State pulled off one of the biggest upsets of the NCAA tournament thus far.
All Your Bracket Essentials
Next up for the Wolfpack is a meeting with the winner of the game between the No. 4 Louisville Cardinals and the No. 5 Northern Iowa Panthers on Sunday.
The best game of the day was the Notre Dame Fighting Irish's 67-64 win over the Butler Bulldogs in overtime. Every starter for both teams played at least 38 minutes in the low-scoring and hard-fought affair. Notre Dame was able to pull out the win behind the 20-point performance from Steve Vasturia.
Notre Dame awaits the winner of the battle between No. 2 Kansas Jayhawks and the No. 7 Wichita State Shockers. Check out the most updated bracket.
Here's an updated schedule for Sunday's action along with predictions for each game.
NCAA Tournament 2015: Schedule and Predictions for March, 23

| | | |
| --- | --- | --- |
| No. 5 West Virginia vs. No. 4 Maryland | 8:40 p.m. | Maryland |
| No. 7 Wichita State vs. No. 2 Kansas | 5:15 p.m. | Kansas |
| No. 5 Northern Iowa vs. No. 4 Louisville | 9:40 p.m | Northern Iowa |
| No. 11 Dayton vs. No. 3 Oklahoma | 6:10 p.m | Dayton |
| No. 7 Michigan State vs. No. 2 Virginia | 12:10 p.m | Virginia |
| No. 1 Wisconsin vs. No. 8 Oregon | 7:45 p.m. | Wisconsin |
| No. 1 Duke vs. No. 8 San Diego State | 2:40 p.m. | Duke |
| No. 7 Iowa vs. No. 2 Gonzaga | 7:10 p.m. | Gonzaga |
Schedule per NCAA.com, picks by Mazique
Duke Will Roll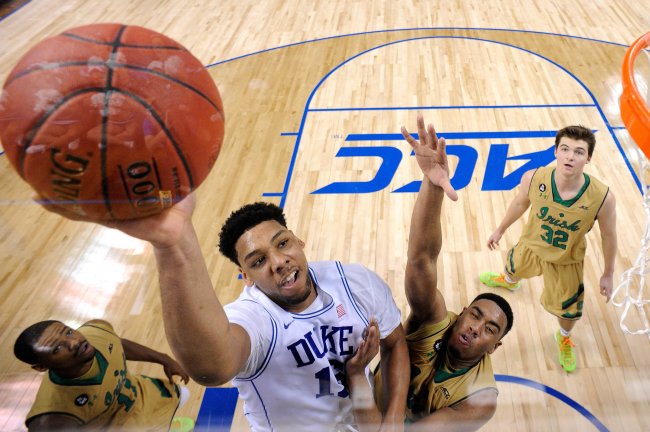 Grant Halverson/Getty Images
The San Diego State Aztecs are saddled with the task of taking down the No. 1-seeded Duke Blue Devils. A lack of size and shooting will hamper the Aztecs' attempts at an upset.
San Diego State has just two players on its roster who stand 6'9″ or above. Against the likes of Jahlil Okafor, Marshall Plumlee and Amile Jefferson, that lack of length will be an issue.
Also, the Aztecs don't shoot the ball especially well from anywhere. As a team, they are just 62 percent free-throw shooters. They also make just 32 percent of their threes and 42 percent of their shots from the field overall.
It's going to be a long day for the Aztecs.
Dayton Has Upset Potential 
One team that does have a good chance to pull the upset is the No. 11-seeded Dayton Flyers. They take on the No. 3 Oklahoma Sooners. ESPN Stats and Info clearly don't see Dayton as a team likely to win on Sunday.
When the Flyers are playing their best basketball, they are one of the better defensive teams in the country. In its last two games—including its second-round win over the Providence Friars—Dayton has allowed just 54 points per game.
Oklahoma is a team that will find itself in prolonged scoring droughts as it depends too much on leading scorer Buddy Hield. The Big 12 player of the year has been everything for the Sooners this season, but he and Oklahoma may be set to run into a defensive buzzsaw.
In a low-scoring game, I pick Dayton.
Follow Brian Mazique on Twitter. Basketball is awesome.

Sports – Google News