A new
iPhone 7
and iPhone 7 Plus case launched recently on Indiegogo, called "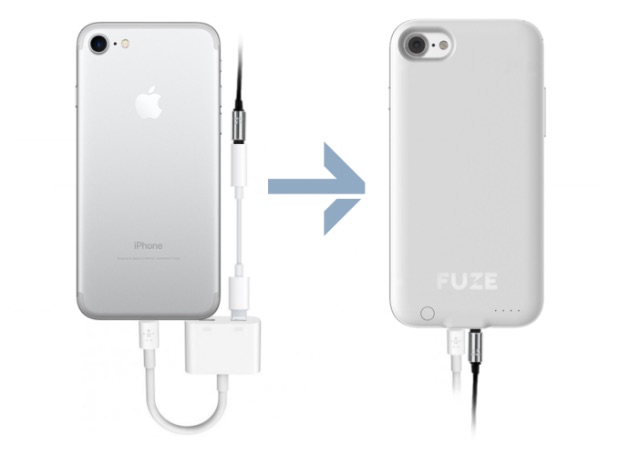 As a bonus, Fuze also provides extra battery life to the iPhone, and is rated for 2,400 mAh for the 4.7-inch iPhone 7 and 3,600 mAh for the 5.5-inch iPhone 7 Plus. As a comparison, Apple's Smart Battery Case for the iPhone 7 is
rated for 2,365 mAh
. Fuze said its own case provides "a doubled battery life," with sync-through charging so users can charge their iPhone, the case's battery, and listen to music at the same time.
Fuze restores 3.5mm audio jack for iPhone 7 and 7 Plus. It delivers a doubled battery life as well as scratch and shock protection, all while maintaining the iPhone's compact profile. We need your help to bring back the jack. When you purchase Fuze, you purchase the freedom of choice.
The company said that its case is made out of durable TPU and ABS plastics, which Apple uses in its first-party battery case, to provide protection against drops and scratches. Fuze also lacks the "chin" of Apple's Smart Battery Case, "adding only 5mm (.2 inches) to the overall thickness of the phone." The case weighs 2.9 ounces as well, which the company equates to less than a deck of playing cards, so Fuze in total "keeps the slim design the iPhone is known for," without unnecessary or bulky additions.
The campaign has a goal of $ 60,000 over the next month, with the first "super early bird" perk priced at $ 49 for one Fuze case, going to a basic early bird level at $ 59, and landing on the predicted retail price of $ 69 once the first two tiers sell out.
Users can choose from white, black, gold, rose gold, and blue colors for the case, and the company is currently claiming that the first units "should arrive before December 23" of this year. All the same, potential backers should note the sometimes disappointing nature of crowdfunding campaigns, which could lead to schedule postponements, design alterations, or cancellation.

Technology – Google News