For global financial markets, central-bank stimulus just isn't what it used to be.
Stocks retreated with government bonds, while the euro rallied to the highest level in almost a month as investors looked past an unprecedented boost from European monetary policy to focus on rising anxiety that policymakers have lost the ability to jumpstart global growth and stave off deflation.
The Standard & Poor's 500 Index pared losses on speculation the selloff had gone too far too quickly amid European Central Bank cuts to three key interest rates and expanded bond purchases. Shares in Europe fell 1.7 percent as President Mario Draghi's signaled that further interest-rate cuts aren't likely damped enthusiasm. Crude oil fell to $ 38 a barrel, providing a reminder that commodity prices remain at levels inconsistent with rising inflation. Treasuries slid, pushing yields to the highest in more than a month.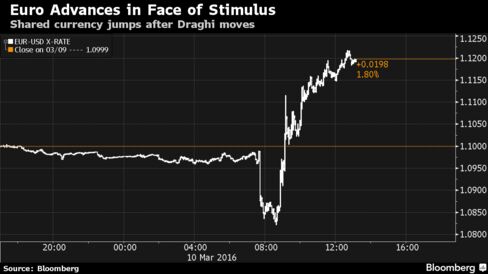 From the Federal Reserve's quantitative easing that underpinned the seven-year bull market in U.S. equities to the negative rates in Europe that fueled rallies in government bonds, unorthodox central bank stimulus has supported global assets ever since the depths of the financial crisis. On Thursday, financial markets took less than 90 minutes to go from being overwhelmed by the extent of the latest measures to being underwhelmed by the prospects for the easing to revive growth.
"The bottom line is that monetary policy has had less of an effect lately in terms of driving capital asset prices," said Ernie Cecilia, chief investment officer at Bryn Mawr Trust Co., which oversees $ 8.5 billion in Bryn Mawr, Pennsylvania. "At some point we'll need to see something deeper than that. We need to see revenue and earnings growth in the corporate sector, and less stringent fiscal policies, particularly in the U.S."
Stocks had rallied and the euro weakened in the weeks leading up to the ECB decision amid speculation the additional moves would spark gains in riskier assets. That sentiment got a boost from stability in oil prices and improving U.S. data, though signs of weakness persisted in readings on American manufacturing and European prices. Draghi's signal that further rate cuts aren't likely added to concern that central banks may be nearing the limits of their effectiveness.
"His comment was 'no more stimulus,' but how often has a central bank said that? A lot," Steve Wruble, chief investment officer at Portland, Oregon-based RiskX Investments, said by phone. "It's a crappy global economy with all uncharted territory, and no one's got a solid view."
Stocks
The Standard & Poor's 500 Index fell 0.1 percent at 3:42 p.m. in New York, briefly erasing a drop of 1 percent. The Stoxx Europe 600 declined 1.7 percent, while emerging-market shares were little changed.
"The euro zone isn't great and that's part of the reason why Draghi has done what he's done" Peter Cecchini, co-head of equities and chief market strategist at Cantor Fitzgerald, said by phone. "The underlying fundamentals that caused him to do this are not good."
The retreat in U.S. stocks was led by industries that were among the biggest contributors to the three-week rally. Energy producers fell as oil retreated from a three-month high, with Exxon Mobil Corp. losing 1.2 percent. JPMorgan Chase & Co. slipped 1.7 percent as banks declined for a fourth day. Microsoft Corp. dropped 2.6 percent, weighing on the technology group after a two-day rally.
Investors will now turn to comments from the Federal Reserve next week for cues on the the path of interest rates in the U.S., where the central bank is diverging from its global counterparts as it moves toward tighter policy.
Currencies
The euro advanced against the dollar, reversing an earlier drop. The 19-nation shared currency climbed 1.8 percent to $ 1.1199. It earlier swung between a 1.6 percent drop and 2 percent gain, the biggest intraday range since the ECB's last meeting on Dec. 3. The euro rose 1.3 percent to 126.29 yen.
"ECB members have been saying negative interest rates are working but if they were, then why did they have to do this bazooka they just did," Andrew Brenner, head of international fixed income at National Alliance Capital Markets in New York, said by phone. "They've realized that negative rates don't work and it doesn't help the economy."
Bonds
Bill Gross says it's the "end of the line" for negative rates in Europe, and global bond markets appear to agree. Euro-area government bonds erased an initial surge that was sparked by the ECB unexpectedly cutting all its key rates and expanding its monthly bond purchases.
The global monetary policy door is "closing fast — developed market yields have bottomed," Gross, manager of Janus Capital Group Inc.'s $ 1.3 billion Janus Global Unconstrained Bond Fund, wrote in a tweet. In another post, he said the ECB policy moves were "actually more fiscal than monetary" and marked the end of the line for rates moving below zero.
The 10-year note yield rose two basis points to 1.90 percent, according to Bloomberg Bond Trader data. Spanish 10-year yields initially dropped the most in five months with the decision boosting peripheral debt relative to the higher-rated peers. ECB officials cut the central bank's deposit rate by 10 basis points to minus 0.4 percent, and its main refinancing rate to zero.
The ECB will now buy investment-grade euro-denominated bonds issued by non-bank corporations established in the euro area. The Markit iTraxx Europe Index of credit-default swaps on investment-grade companies fell as much as 12 basis points to 80 basis points. A gauge of swaps on junk-rated corporate issuers declined as much as 39 basis points to 336 basis points. Both indexes are at the lowest since early January.
Commodities
Oil slipped from a three-month high amid uncertainty about when a meeting between Saudi Arabia, Russia and other producers to freeze output will occur as Iran seeks to rebuild its exports. West Texas Intermediate for April delivery fell 79 cents, or 2.1 percent, to $ 37.50 a barrel in New York. The contract settled at $ 38.29 on Wednesday, the highest close since Dec. 4.
Gold futures headed for the first gain in four days as the dollar fell and the ECB flagged risks to the region's growth outlook, boosting demand for bullion as a store of value. Gold is up 19 percent this year as demand for havens surges with gyrations in financial markets. Futures for April delivery added 0.7 percent to $ 1,266.30 an ounce

Business – Google News