Signs of distress in global financial markets faded as investors looked beyond a lurch lower in Chinese stocks and crude oil recovered losses.
Stocks in Europe pared declines with U.S. equity-index futures even after the Shanghai Composite Index plunged 6.4 percent on concern capital outflows will accelerate as China's economy slows. Haven investments held gains, with German note yields sliding to record lows and gold reaching the highest level in more than two months.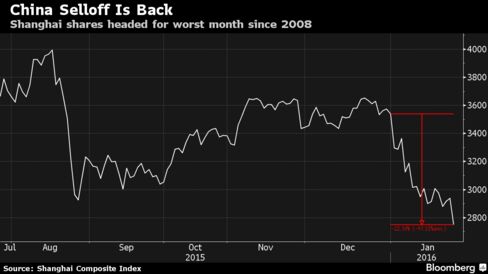 After a brief respite last week, investors are monitoring Chinese stocks to see whether this year's selloff will intensify again. Capital outflows from the mainland reached a record $ 1 trillion in 2015, more than seven times higher than the whole of 2014, based on Bloomberg Intelligence data dating back to 2006. Huang Weimin, a hedge fund manager whose Chinese stock-index futures wagers returned more than 6,200 percent last year, has warned investors should sell their shares now, before it's too late.
"Bond prices are pushing higher but we have got to mindful about how far the rally can continue," said Orlando Green, a fixed-income strategist at Credit Agricole SA's corporate and investment-banking unit in London. "The market does need some strong news to keep it going at these sort of levels. It is something we are kind of bit wary of."
The MSCI All-Country World Index declined 0.4 percent as of 11:34 a.m. London time, paring a decline of as much as 0.8 percent. West Texas Intermediate crude added 0.3 percent to $ 30.43 a barrel after earlier dropping 3.6 percent to $ 29.25.
Stocks
The Stoxx Europe 600 Price Index was down 0.5 percent, after a drop of as much as 2 percent. All but two of the gauge's 19 industry groups declined.
Siemens AG rallied the most since 2010 after increasing its earnings forecast. Royal Philips NV jumped 5.5 percent after fourth-quarter profit rose more than projected.
Futures on the Standard & Poor's 500 Index were little changed, with the U.S. benchmark gauge heading for its worst month since May 2010. Alcoa Inc. and Chevron Corp. were among commodity-related shares declining in premarket trading. Apple Inc., Procter & Gamble Co., Johnson & Johnson, are among 23 companies from the index posting results on Tuesday.
While stocks are having a chaotic start to the year, investors have pulled out of securities that profit from higher volatility at the same time as short sellers piled into bets that tranquility will return. That's even as a measure of investor anxiousness known as the VIX heads for a 33 percent surge this month.
Emerging Markets
The MSCI Emerging Markets Index fell for the first time in three days, sliding 1.3 percent. Benchmark gauges in the Middle East, South Korea and the Philippines lost more than 1 percent.
The Shanghai Composite Index tumbled to the lowest since December 2014 and the Hang Seng China Enterprise Index of mainland equities listed in Hong Kong fell 3.4 percent. The offshore yuan rebounded in Hong Kong, stoking speculation that China's central bank propped up the currency after the slide in equities.
Outflows from China increased to $ 158.7 billion in December, the second-highest monthly outflow of the year after September's $ 194.3 billion, according to estimates compiled by Bloomberg Intelligence. The total for the the year soared more than seven times from $ 134.3 billion in the whole of 2014.
Investors were also concerned about a possible liquidity squeeze even as the central bank flooded the financial system with cash before the Lunar New Year Holidays that start in the second week of February. The People's Bank of China injected 440 billion yuan ($ 67 billion) into the financial system using reverse-repurchase agreements, the most in three years.
Huang Weimin says the Shanghai gauge could drop another 15 percent in the first half as slowing economic growth and a weaker yuan fuel an exit of capital.
"The pressure for capital outflow and the yuan's devaluation is still quite big," said Dai Ming, a fund manager at Hengsheng Asset Management Co. in Shanghai, adding that he's cutting equity holdings. "We haven't seen signs of a pickup in the economy and the first and second quarters could be challenging."
Commodities
WTI crude fluctuated after Monday's 5.8 percent retreat. Government data due out Wednesday is expected to show U.S. inventories rose by 4 million barrels last week, according to energy analysts. That would be a third week of gains.
Oil is down almost 20 percent this year amid concern over brimming U.S. stockpiles, steady output from Saudi Arabia and Russia and the prospect of increasing Iranian shipments after the end of sanctions. Bets that WTI will retreat below $ 25 a barrel have reached a record high.
Gold for immediate delivery gained 0.5 percent to $ 1,112.94 an ounce. It climbed 0.8 percent last week as the turmoil in global stock markets renewed interest in the metal as a store of value.
Bonds
The yield on German two-, three- and five-year government debt fell to all-time lows as bonds advanced across Europe. Yields on Austrian and Dutch two-year securities also dropped to the lowest on record.
Yields on 10-year Treasuries fell one basis point to 1.99 percent as plunging energy costs raise doubts about whether consumer-price growth is strong enough to sustain four interest-rate increases in 2016, the median projection from Federal Reserve officials at their December meeting. 
The U.S. two-year note yield also declined, falling one basis point to 0.85 percent as the nation prepares to auction $ 26 billion of January 2018 securities.
The cost of insuring corporate debt rose for a second day. The Markit iTraxx Europe Index of credit-default swaps on investment-grade companies climbed two basis points to 95 basis points. The junk-rated Markit iTraxx Europe Crossover Index rose five basis points to 380 basis points.
Currencies
Haven currencies erased earlier gains. The euro weakened 0.2 percent to $ 1.0833, while the yen was at 118.29 per dollar. The Bloomberg Dollar Spot Index, a gauge of the greenback against 10 major peers, increased 0.1 percent.
The won fell for the first time in four days after South Korea reported economic growth of 3 percent for the fourth quarter on a year-on-year basis, retreating from a five-year high. Foreign funds have pulled $ 2.5 billion from Korean shares so far this year.
Russia's ruble strengthened 0.6 percent, erasing an intraday decline and clawing back some of Monday's 2.5 percent drop.

Business – Google News